Key 6 Investment Highlights About High Tide Inc. (CSE:HITI) (OTCQB:HITIF)
Aurora and Aphria are strategically invested in High Tide Inc. (CSE:HITI) (OTCQB:HITIF). Aurora has strategically invested over $10 million in High Tide. Aphria also holds Convertible Debentures in the amount of $4.5
On January 7, 2020, secured a $10 million credit facility to expand in Ontario.
Is established in all downstream cannabis markets.
Has 27 Canna Cabana branded retail cannabis stores, 11 Smoker's Corner smoking accessories stores, and 3 KushBar retail cannabis stores now open.
Revenue jumped 281% in Q3 (most recent quarter ended on July 31, 2019). Moreover, revenue almost tripled for the nine months ended on July 31, 2019.
Stock is trading in the oversold zone, meaning this could be a perfect time for investors from a technical point of view.
Technical Chart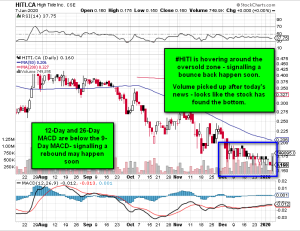 High Tide Inc. (CSE:HITI) (OTCQB:HITIF) had a correction in the past few months due to broader sell-off in the sector. However, the sell-off in the stock was on low volume. Moreover, looking at the key technical indicators like RSI and MACD, HITI stock is oversold.
Today, the stock had nice volumes and saw intra-day buying activities. So, it may not be surprising if the stock continues to witness increased volume and a quick recovery in the coming sessions.
High Tide's Incredible Industry Position
The rapid growth in the cannabis industry has been one of the biggest stories of the past few years. Plenty of promising companies have stepped up during this period, and one of the most promising is High Tide Inc. (CSE:HITI) (OTCQB:HITIF).
High Tide has already been in the cannabis space for more than a decade. Based out of Alberta, Canada, High Tide is a retail-focused cannabis firm with incredible experience in the cannabis business. Due to this, as well as the presence of an unrivaled management team, the future looks very bright for High Tide.
High Tide Inc. (CSE:HITI) (OTCQB:HITIF) started its operations back in 2009 as a smoke shop catering to cannabis connoisseurs. Over the years, it built up its business to become one of the best-known and most beloved retailers in Canada. High Tide is also involved in distributing and has produced specially manufactured products in partnership with major brands.
Some of the company's associations include Snoop Dogg and Paramount Pictures, among others. The company has also branched into wholesaling high-quality cannabis accessories.
Aurora and Aphria Have strategically Invested in  High Tide
Perhaps the most important thing for potential investors to note is that two of the biggest cannabis companies have made strategic investments in High Tide. The companies in question are Aphria (APHA) and Aurora Cannabis (ACB). The presence and confidence of such massive cannabis companies will only help High Tide in growing rapidly over the years to come.
Aurora Cannabis Inc. (ACB.TO) has made strategic investments totalling over CAD $10 million in High Tide Inc.
Aphria also invested CAD $4.5 million in convertible debentures of High Tide Inc.
Currently, High Tide Inc. (CSE:HITI) (OTCQB:HITIF) has 27 branded Canna Cabana stores, plus 3 KushBar stores, which are all focused on cannabis retail. In addition to that, High Tide also has 11 Smoker's Corner outlets (7 franchises, 4 corporates) where customers can buy smoking accessories.
On top of that, in late 2018 the company purchased Grasscity.com – the world's best online headshop.
This sort of retail network, and the sheer variety of products that it has available, has made High Tide the go-to retailer for cannabis enthusiasts all across Canada.
Secures $10 Million Credit Facility to Expand in Ontario
High Tide's growth trajectory over the past decade is now well established and on Tuesday, the company made another major announcement. It announced that it has managed to get a credit facility worth $10 million that will be deployed towards the expansion of High Tide's facility in Ontario, among other uses. The agreement was reached by the company with Windsor Private Capital, a merchant banking institution based out of Toronto.
The credit facility of $10 million is senior secured and non-revolving in nature. It is a major development for High Tide, which managed to be the first recipient of Windsor's investment in the cannabis sector. The company is going to use the money to reach its operational objectives in 2020.
CANNA CABANA's Store Counts
As investors know, the cannabis industry is still at a relatively nascent stage, but High Tide is one of the veterans of the industry, having been established in 2009.  This puts the company in a strong position to ride the incoming green wave and grow significantly in the near term.
Any investor who is interested in the fast-growing cannabis sector would do well to track the growth of this company closely in the coming months. It's also worth looking at its recent performance.
Impressive Revenue Growth
In its most recently reported, that being the third quarter of 2019, High Tide managed to generate revenue of $8.3 million, which reflected a year-on-year rise of 281%. And seeing as 2019 was a difficult year for the cannabis sector in Canada, this performance from High Tide is an indication that the company can be viewed as being able to buck the negative trends of the cannabis industry.
High Tide's revenue for the first nine months of 2019 stood at $19.9 million, which reflects a remarkable rise of 199% from its performance in 2018. For the first nine months of that year, the company generated revenue of $6.70 million.
It's clear that High Tide Inc. (CSE:HITI) (OTCQB:HITIF) is moving in the right direction, and with investments from companies like Aphria and Aurora Cannabis, High Tide is expected to continue growing its business by boosting the number of retail store counts in 2020. Investors would do well to keep an eye on High Tide in the coming weeks as the cannabis sector expands further.
Important Notice & Disclaimer
*Never invest in a stock mentioned by Traders Insights unless you can afford to lose your entire investment.
Release of Liability: Through use of this website viewing or using you agree to hold Traders Insights, its operators owners and employees harmless and to completely release them from any and all liability due to any and all loss (monetary or otherwise), damage (monetary or otherwise), or injury (monetary or otherwise) that you may suffer. The information contained herein is based on sources which we believe to be reliable but is not guaranteed by us as being accurate and does not purport to be a complete statement or summary of the available data. Traders Insights's employees do not own any shares of the mentioned company(s). Traders Insights will also disclose any compensation. Traders Insights has been compensated Seven Hundred dollars by Market Jar Media Inc for marketing efforts regarding HITIF.
Our emails may contain forward looking statements, which are not guaranteed to materialize due to a variety of factors. We do not guarantee the timeliness, accuracy, or completeness of the information on our site or in our newsletters. The information in our email newsletters and on our website is believed to be accurate and correct, but has not been independently verified and is not guaranteed to be correct. Traders Insights encourages readers and investors to supplement the information in this report with independent research and other professional advice. All information on featured companies is provided by the companies profiled, or is available from public sources and Traders Insights makes no representations, warranties or guarantees as to the accuracy or completeness of the disclosure by the profiled companies. Traders Insights, nor any of its affiliates are not registered investment advisors or a broker dealers.