Good Morning Members,
We have identified a hot Alert  for you – Universal mCloud Corp. (OTCQB:MCLDF) (TSX.V:MCLD). Being a premium member you are getting this idea first! So get up and make the most of it before the whole world jumps on to it. The stock is a low priced – closed at $0.31 USD on OTCQB yesterday. A Low priced stock often makes big move unlike high valued stock.
Our New Alert: MCLDF (Universal mCloud Corp.)
MCLDF has been making a lot of noise for the past few weeks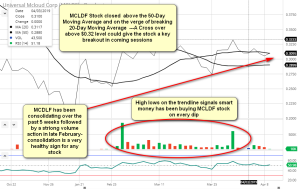 or so and that's how it came on to our radar. The Company has made a few important announcements during this time and they look impressive from investors point of view . We believe this has the potential to drive MCLDF stock in the right direction.
Get The Complete Reopt on MCLDF Here 
Multiple analysts have started coverage on the stock.
Maxim analysts initiated coverage with a Buy rating and 12-month price target of C$0.70 – this represents a 75% potential upside from the current market price of $0.41 CAD ($0.31 USD).
Moreover, Echelon Wealth Partners analyst Gianluca Tucci has a "Speculative Buy" rating and one-year price target of $0.80 on the stock.
Technical Analysis:-
The charts are indicating that a lot of strong hands are taking active interest in the Company and this may be the right time for you as well to take an exposure in MCLDF and then ride the upswing when it comes.
Solid On the chart:-
MCLDF stock closed above the 50-Day Moving Average and on the of breaking above the 20 Day MA- A cross over the USD$0.32 level could give the stock a key breakout in coming sessions – further which $0.45-$52 may be hit.
Higher Lows on the trend line signals smart money has been buying MLDF stock on every dip.
MCLDF has been consolidating over the past 5 weeks followed by a strong volume action in late February.
Refer the chart below:-
Here's a brief background of the company:
Universal mCloud Corp. (TSX.V:MCLD) (OTCQB:MCLDF) has developed cloud-based AI analytics that effectively replace expensive hardware with low-fee software. This development could potentially save companies hundreds of thousands and even millions of dollars a year!
Here's how it works:
Companies like Honeywell International Inc. and Siemens AG have been traditionally serving large-scale clients by installing expensive centralized HVAC control systems for their buildings.
Universal mCloud Corp. (TSX.V:MCLD) (OTCQB:MCLDF) is changing that paradigm by running everything through cloud-based AI analytics. Their software is able to monitor and efficiently regulate the temperature of every square inch of a building using AI and machine learning without human intervention.
In light of this development, it's little wonder that Universal mCloud Corp. (TSX.V:MCLD) (OTCQB:MCLDF) has quietly netted over 100 blue-chip clients in the past two years.
Key Takeaways
Big News Out Today: Universal mCloud Connects Shopping Centers, Wind  Turbines, Oil and Gas Assets Worldwide
This Morning, the company released an important operational update related to their progress being made across all of its business segments, further highlighting numerous advances in executing its business plan around the world. Here are some key highlights:-
1. Smart Buildings: First shopping center connected to AssetCare in expansion effort to over 1,000 malls across China:-
2. Wind: mCloud is moving forward on delivering AssetCare analytics for 2 wind projects this month:-
3.Oil and Gas: mCloud and Fulcrum Automation Technologies plan initial roll-out targeting 200 assets
KEY INVESTMENT HIGHLIGHTS
Earnings On Radar:
The company is scheduled to report its fiscal 2018 Operating Results and Conference Call on April 24, 2019. This could be another important event to watch out for investors.
Global Licensing Agreement Fulcrum Automation Technologies
Earlier in February 2019, the company announced a 3 year renewable global licensing agreement to deploy mCloud's AssetCare offering in the oil, gas, and refining industries, targeted at US$15M in AssetCare subscriptions. The company is also expanding the scope of its AI technology and applying it to its Smart Buildings division. Its partner, SCN Ltd, has now added the energy-saving AssetCare HVAC technology to Heiwado shopping centers in China.
As more companies discover the cost savings that Universal mCloud Corp. (TSX.V:MCLD) (OTCQB:MCLDF) is delivering … the company's client list could grow exponentially.
Multiple Revenue Streams
The company has smartly diversified its revenue streams from different parts of the world – Canada, the United States and China. Over the past nine months, Universal mCloud Corp's revenue has grown from $9.5M run rate to a current $14M run rate.
As the company's business model carries high margins and recurring revenue, Universal mCloud Corp is already approaching the EBITDA break-even point, an remarkable achievement for such a young tech company.
AI revolution Is Getting Strong Attention :-
With increased benefits of AI, corporations to governments, everyone is jumping on the AI revolution.
Most recently, the United States announced President Trump will be signing an executive order to create an American AI Initiative designed to dedicate resources and funnel investments into AI research in a bid to get on the forefront of the AI race.
Conclusion
We believe this trend to continue for some time and the faster you take a exposure to MCLDF the more benefits you could reap in the coming weeks.
It's a win-win situation. The risk-reward ratio of MCLDF is in favor of the investors. This is an amazing opportunity to ride the wave with a company that has been exhibiting a lot of positives.
We can't wait to see how much MCLDF rises this week. Wish you all a good week ahead!!
Happy Trading,
TradersInsights Team
Important Notice & Disclaimer
*Never invest in a stock mentioned by TradersInsights.com unless you can afford to lose your entire investment.
Release of Liability: Through use of this website viewing or using you agree to hold TradersInsights.com, its operators owners and employees harmless and to completely release them from any and all liability due to any and all loss (monetary or otherwise), damage (monetary or otherwise), or injury (monetary or otherwise) that you may suffer. The information contained herein is based on sources which we believe to be reliable but is not guaranteed by us as being accurate and does not purport to be a complete statement or summary of the available data. TradersInsights.com's employees do not own any shares of the mentioned company(s). TradersInsights.com will also disclose any compensation. TradersInsights.com has been compensated Up to One thousand dollars for marketing efforts regarding MCLDF.
Our emails may contain forward looking statements, which are not guaranteed to materialize due to a variety of factors. We do not guarantee the timeliness, accuracy, or completeness of the information on our site or in our newsletters. The information in our email newsletters and on our website is believed to be accurate and correct, but has not been independently verified and is not guaranteed to be correct. TradersInsights.com encourages readers and investors to supplement the information in this report with independent research and other professional advice. All information on featured companies is provided by the companies profiled, or is available from public sources and TradersInsights.com makes no representations, warranties or guarantees as to the accuracy or completeness of the disclosure by the profiled companies. TradersInsights.com, nor any of its affiliates are not registered investment advisors or a broker dealers.