Hello Special Members,
During the
Friday
trading session Finjan Holdings, Inc. (NASDAQ:FNJN) traded over 231K shares and jumped 35% to intraday high of $2.32 (in regular sessions) and closing at $1.98 (After-Hours), interestingly with 93,774 of those shares being traded After Hours. It looks like we could see a huge move on FNJN based on a review of the technicals near term. Here are some key technical elements, signalling a bullish pattern.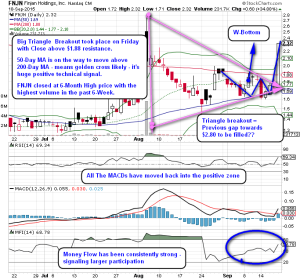 Moreover, it is also very interesting that we showed so much strength late on a
Friday
, in an ugly market and with no news. The rate at which this low floater can move with some buying pressure is why this ticker has the setup/potential to see some massive gains, which can be easily missed if you are not ready for it.
Considering how undervalued the market cap is and how fast/big the security market is growing, FNJN could see higher highs form with the rising moving averages now. It is set up beautifully and we are still in the early stages of this long term mega growth trend.
3 Key Things To Remember
1. FNJN has roughly 23m shares outstanding with a tiny float of 4 million shares, maybe half of which is actively traded and has 78.61% % of its shares held by Insiders which makes the stock eligible for some monumental runs like we just witnessed.
2. Since Julie Mar-Spinola took over as Chief Counsel and Director of IP, Finjan has filed a number of patent lawsuits. The first one to come to trial and be adjudicated, Finjan vs. Blue Coat, resulted in a victory for Finjan and a $39 million judgement against Blue Coat. Finjan has about 9 other shots at several other cyber-security venders working their way through the courts at various stages. Odds are good that more courtroom victories and/or licensing deals will follow.
3. FNJN is a neglected stock flying "under the radar" of analysts. Additional patent case wins and/or licensing deals will attract more investor attention and analyst interest. Investors currently don't seem to ascribe much value to Finjan's IP portfolio, but that could change very quickly.
All it will take is one more courtroom victory, or one licensing agreement to lessen investor doubts about Finjan. In spite of that $40 million award, investors are still skeptical and reluctant to take a position in FNJN. One more big win or one good licensing agreement will make believers out of the skeptics, and FNJN stock will take off like a rocket!
To read our initial report on Finjan in full from our please click the link below:
http://specialpennystockalert.com/fnjn/